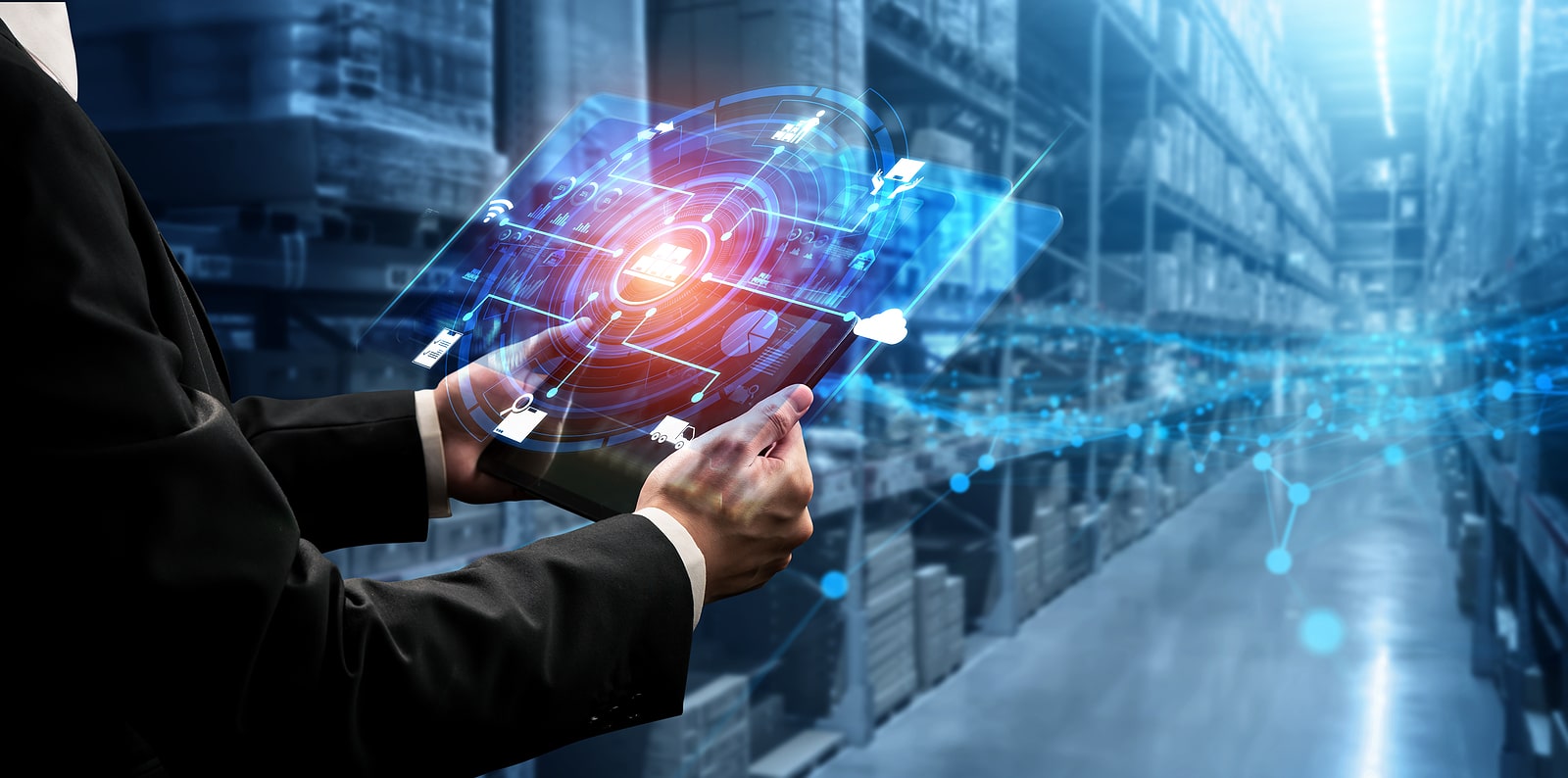 Continuous quality improvement is key to long-term success in pharma manufacturing. Traditional CPV has focused on ensuring quality parameters are met during manufacturing.
Continuous quality improvement is key to long-term success in pharma manufacturing. Traditional CPV has focused on ensuring quality parameters are met during manufacturing. Next Gen CPV adds optimization, speed and innovation on top. By constantly innovating products and optimizing production processes, pharmaceutical manufacturers can meet ever-evolving regulatory requirements and demands, while maximizing yield.
Investment in Pharma reflects the focus on R&D and Digital Transformation — both integral to meeting demands of an ever-changing landscape. Research and development expenditure by members of The Pharmaceutical Research and Manufacturers of America (PhRMA) swelled from USD $26 billion in 2001 to USD $91 billion in 2020 while the pharmaceutical industry's digital transformation spending is expected to reach USD $4.5 billion by 2030.
Regulatory compliance and quality are tightly interlinked (see Figure 1). To go beyond the traditional CPV solution, companies are investing in digital solutions that cut across these functions.
How Do You Drive Quality And Innovation With Compliance?
Business leaders should develop KPIs or other performance measures to evaluate the outcome of implemented changes.
Change, due to innovation or a new regulation, has a direct impact on yield and outcomes. But for some leaders in the industry, improved production yield is not enough. The enterprise is guided by achieving sustainable outcomes as well:
Reduced batch rejection
Minimized rework
Reduced on-hold batches
Optimal production yield
Just-in-time batch releases
Cost savings
Increased FDA regulatory confidence
Improved plant/site-level visibility
Streamlined and standardized production

To successfully comply with ever-evolving regulations, continuously improve quality, and achieve sustainable outcomes, all players in the manufacturing value chain should be able to harness the right data at the right time — and this is where the struggle begins.
Why Is Data At The Root Of All Problems?
"Data [is] used to make judgements, to answer questions, and to monitor and support improvement […]"
According to the BMJ, data is necessary for making judgments, answering questions, and monitoring and supporting improvements. Here, the BMJ is referring to process improvement in healthcare. But this truth also applies to improving processes in other regulated sectors, such as the pharmaceutical manufacturing industry.
"Data is the new water." It is everywhere. It is abundant and infinite. But subject matter experts and technical operators alike won't be able to take full advantage of data if data pipelines are clogged, fragmented, or broken. Data is only useful when it is relevant, timely, complete, and readily accessible at the right time or in real-time.
How Data Becomes A Hurdle
Global pharmaceutical companies have a widely distributed manufacturing base — with facilities spread domestically and internationally, across contract manufacturing partners, and new entities emerging through mergers and acquisition. This creates a challenge in preserving comprehensive visibility across all processes, and in implementing consistent and continuous quality control.
If you still use conventional data governance and management practices, data will be more of a hurdle than an asset. You will spend more time, energy, and resources on data wrangling tasks. Compliance, quality control, and process improvement will remain a source of frustration.
The following questions can help you diagnose the health of your data management:
Are our processes not standardized across all sites?
Do we lack a one-stop, single source of truth for all data and analytics needs?
Do we still:

Manually collect, digitize, integrate, exchange, and analyze data?
Manually monitor critical parameters and process variations?
Manually trace data and changes in processes?
Manually create and publish analytics, quality, and compliance reports?
If you answered yes to any of these questions, having a single source of truth for all compliance, quality, and production objectives will transform how you do business, the outcomes you achieve, and ensure you maintain streamlined operations for decades to come. Employing a solution that eliminates manual and non-standardized processes is key to shifting the focus of your subject matter experts from "after-the-fact" response toward sustainable outcomes.
Mareana's NextGen CPV
Improve quality, reduce compliance risk, speed up innovation, and achieve sustainable outcomes.
When implementing change, you need to look at the entire process holistically while obtaining granular visibility into all units to ensure innovations will result in positive outcomes. You need to identify and remove bottlenecks that hinder you from accelerating compliance, traceability, and innovation. You need to remove the data hurdles that prevent standardizing and simplifying quality control and change implementation.
Mareana's Next-Generation Continued Process Verification (NextGen CPV) empowers you to achieve these goals. It allows you to:
Optimize your data governance and management practices.
Enable standardized and automated processes across the enterprise.
Accelerate compliance, innovation, and return-on-investment.
Mareana's NextGen CPV is a purpose-built software for FDA Process Validation and Compliance. It leverages Mareana's Manufacturing Intelligence and Modeling Platform to enable pharmaceutical manufacturers to standardize processes, automate manual procedures, and reduce manufacturing variability. Mareana's AI models increase process understanding, process control, manufacturing, and enterprise performance.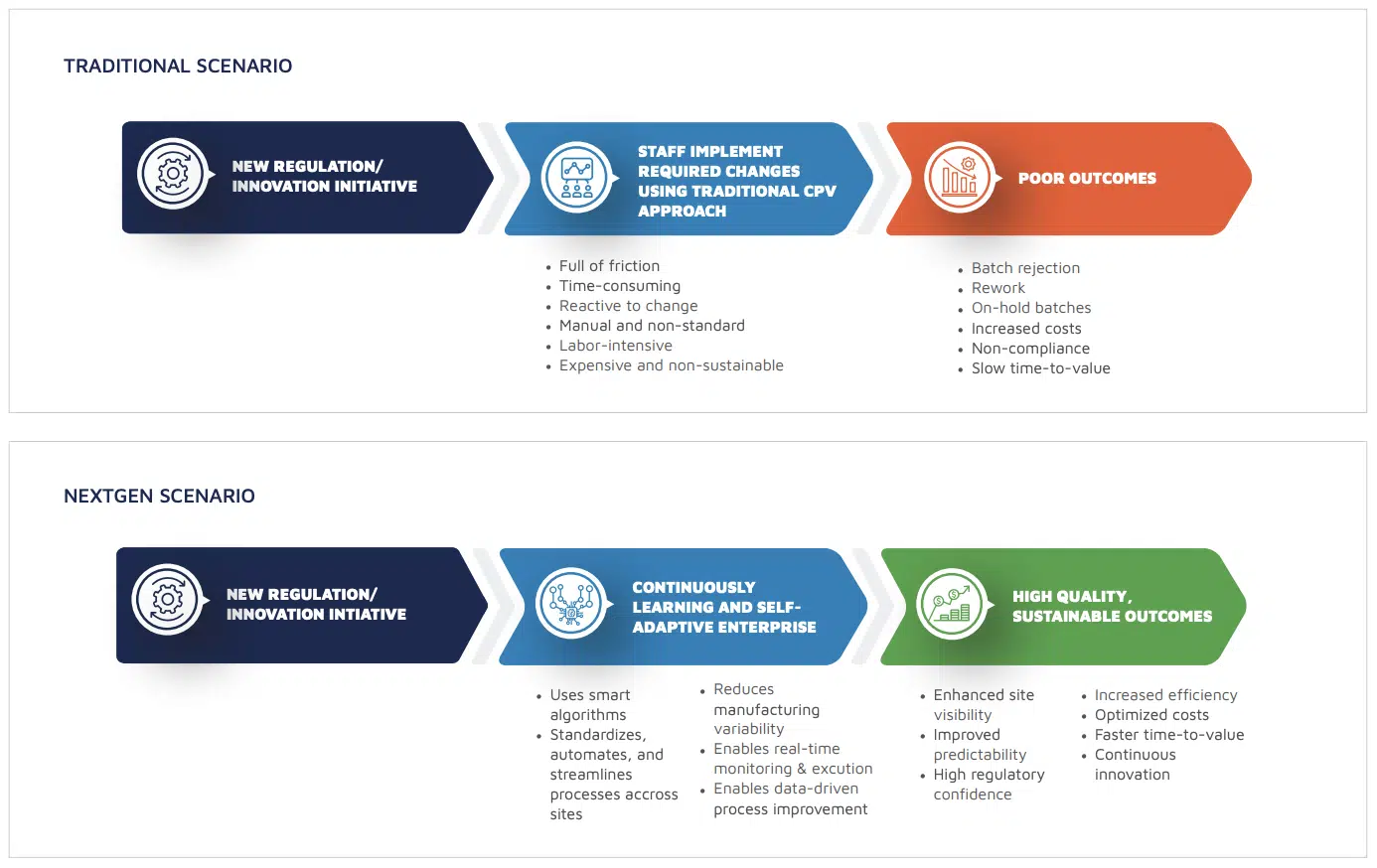 NextGen CPV radically improves process monitoring by allowing you to:
Monitor ongoing manufacturing in a consistent manner.
Monitor and change parameters in real-time for optimal yield.
Extract data from paper batch records for analysis.
Enable standard and consistent process across all sites.
Implement a consistent way of organizing data across all data silos.
NextGen CPV enables end-to-end data connectivity, kickstarting your digital transformation to Factory 4.0 so you can realize dramatic business objectives.
Improve predictability
Increase efficiency
Ensure compliance
Reduce costs
Accelerating Regulatory Response-time
Conclusion
Achieving compliance, continuous process improvement, and sustainable outcomes is hindered by manual and non-standard processes.
Leveraging Mareana's NextGen CPV allows pharmaceutical manufacturers to fluidly handle data from any source, whether structured or unstructured. Compliance with ever changing regulations is easy with the digital twin of your product genealogy instantly at hand, allowing subject matter experts and technical operators alike to focus on innovation and business value creation.
Mareana's continuously learning software platform preempts process drift with actionable signals, giving you the peace of mind to make data driven decisions that directly impact profitability, confidently achieve complex sustainability objectives, and prime your organization for the future of personalized medicine across your entire enterprise.